Cycling Group
Cycling Group: Gary Jackson
This Months Rides
Thursday February 6th Meet at 9:30 in Deep Creek Road Ringwood in the Schwerkolt Cottage lower car park, note new meeting place (Melway 49 D7). We follow the Mullum Mullum Creek Trail to Croydon and return, distance 17 km. The ride is uphill on the way and downhill for the return. Mostly on gravel and sealed tracks with a short road section at the end. Leader Colin Richards Mobile 0406 599 990. Thursday February 20th Note - Changed Start time - Meet at 10.30 am at Thelma and Ian Bourke's camp site (No. C11) Capel Sound Foreshore (Melway 169 H2) allow 1.15 to 1.30 hours travel time to Capel Sound (Directions - at the end of the Mornington Peninsular Fwy extension, turn right onto Boneo Rd at the roundabout, proceed to Eastbourne Rd roundabout, turn left then continue along Eastbourne Rd to Elizabeth Ave, turn right at Elizabeth Ave. At the Nepean Hwy turn right then immediately turn Left into B Section of the foreshore then turn left again on the track to C section for approximately 100 metres and look for the flying fish.) We will ride along the foreshore between Rye and Rosebud with a coffee stop on the way. Returning to Thelma and Ian's camp site for a picnic lunch provided by our hosts and maybe a swim/kayak in the bay. Ride will be within the foreshore camping area on compacted gravel surface. Leader Thelma 0417 053 549 and Ian 0418 381 279.
Last Months Rides
For the past 10 years Tom and Shirley Fenemor have hosted the Cycling groups first ride of the year at their Somers holiday home.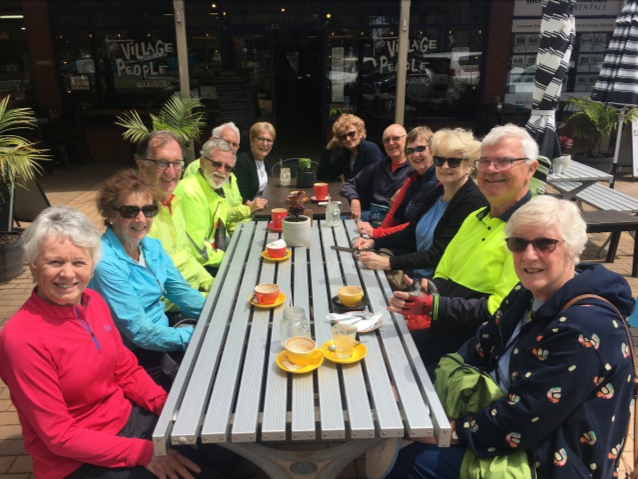 Despite the 50mm of rain the Cycling group were determined to celebrate the 10th year anniversary. As we arrived at Somers the sky cleared and we were able to enjoy a short ride from Somers to Balnarring for Coffee then returning to enjoy a sumptuous lunch prepared by Tom and Shirley. Thanks again to Tom and Shirley for hosting this annual activity. Well done.
Regards Gary Jackson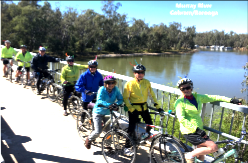 Share this with your friends
Subscribe
If you would like to receive our latest news via email, please fill in the form below!