Cycling Group
Cycling Group: Gary Jackson
This Months Rides
Thursday October 3rd commence at 10am from the junction of Haughton Road and Tennyson Avenue, Clayton South (Melway Page 79 E4), between Westall and Clayton Stations. We will ride on the newly created Djerring Trail following the railway under the new Sky Rail, to Caulfield where we will have coffee in Grange Road. The track is virtually flat on new concrete paths over a return distance of approximately 18 kms. Leader Mike and Helen Pavey 0418 990 815.
Bike Camp 2019. On the 8th to 11th October we travel to Rutherglen for our annual 4 Day Bike Camp. Those attending have received a separate communication with trip information and ride details. Note - During Day Light Savings our rides will now commence at 9.30am
Thursday October 17th commence at 9.30am from Kew Cricket ground car park (Melway page 45 G5). We will ride down to the Yarra River Trail at the Chandler Hwy bridge and proceed through Fairfield to Dight Falls. Returning to Fairfield for a coffee break. Then continuing via Alphington and Ivanhoe back to Kew. Approximately 20km on mainly flat sealed bike trails with some compacted gravel paths and back street riding. Leader Gary Jackson 0418 578 863
Last Months Rides
September 5th - 11 riders cycled on the Merri Creek trail to Rushall Railway Station then followed the Capital City Trail across the top end of the city. Passing through Royal Park then connecting to Moonee Ponds Creek Trail to Docklands for coffee under the Melbourne Star Observation Wheel.
September 19th - 4 riders cycled from Box Hill on the Darebin Creek trail to Warrigal Road, crossing under Warrigal Road and joining the Anniversary trail to Ashburton where we enjoyed a well-earned coffee. Thanks Peter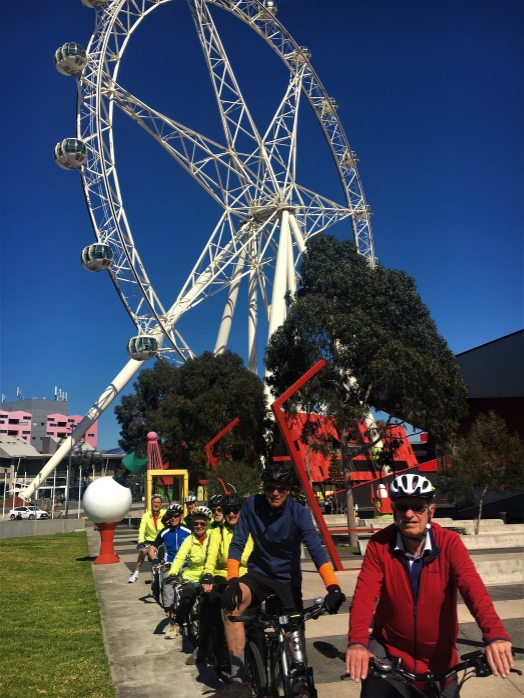 Regards Gary Jackson

Share this with your friends
Subscribe
If you would like to receive our latest news via email, please fill in the form below!