Cycling Group
BIKE GROUP - Gary Jackson
August Rides
Thursday August 4th. We meet at 10am in the car park on the Yarra Bvd (Melways map 2M J10), riding up Gardiners Creek and Anniversary Trails to Ashburton. Hopefully here for coffee. Then onto Ferndale Trail to the same named park, and back to our car park in Yarra Bvd.
A flat paved track for most of the ride with some compacted gravel at Ferndale Park. A pleasant ride of some 22km. Leader Tom Fenemor 0418 373 607.
Thursday August 18th. Meet at 10am at Eaglemont Tennis Club car park (Melway ref 31 K10). We will cycle on the Main Yarra Trail through Yarra Flats Park to Banyule Flats Reserve continuing past Rosanna Golf course to Westerfold Park. Crossing the Yarra River on the suspension bridge into Finns Reserve we connect to the Ruffy Creek Trail to cycle to Melissa Café.
Mainly flat with some hills prior to crossing the Yarra at Finns reserve, sealed and gravel bike paths and approximately 20 km. Leader Gary Jackson 0418 578 863
July Rides
Thursday July 7th. 7 riders started at the Wantirna Reserve, Mountain Highway and cycled along Eastlink Trail, then onto Dandenong Creek Trail passing the Ringwood Golf course to Bayswater for coffee at Montano's Cafe and return. Thanks Ian
Thursday July 21st. 7 riders started from Wantirna Road and cycled along Dandenong Creek Trail to Wantirna Reserve and turning back to Bayswater for coffee and cake.
We took a detour to Marie Wallace Bayswater Park to view the large bird painting on the football ground clubhouse wall before returning to our cars. Thanks Colin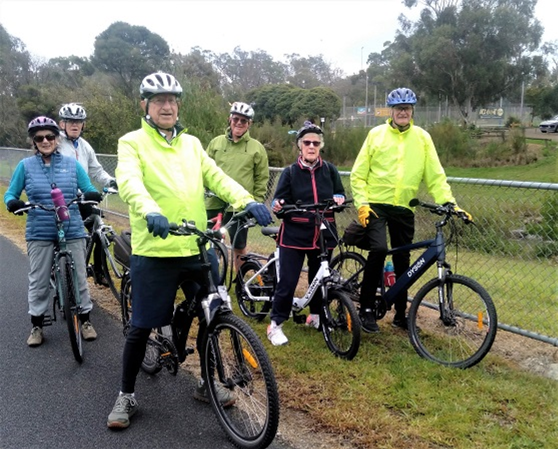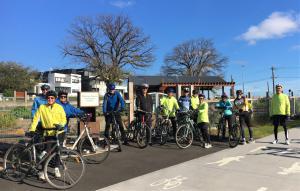 Share this with your friends
Subscribe
If you would like to receive our latest news via email, please fill in the form below!