Cycling Group
BIKE GROUP - Gary Jackson
Regular Bike Rides have Recommenced
Thursday December 2nd. meet at 9.30 at Yarra Bend Park car park off Yarra Bend Road (Melway ref 30 H12). We will ride on the Merri Creek trail to Rushall Railway Station, crossing over Merri Creek to continue on the Trail to Coburg for coffee at The Boot Factory. All on sealed bike path, distance 20k. Leader Gary Jackson
Thursday December 16th. This will be our Christmas break up ride and lunch at Melissa Café, 65 Parker St, Templestowe Lower (Melway 33 C4)
Riders to meet at Melissa's Café at 10am for coffee. We will have a short ride to Ruffy Park and return for Lunch at 11.30. All on sealed designated bike paths, mainly flat. Approx. 8k return. Organizer Gary Jackson
November Rides
Thursday November 4th. 8 riders cycled from the Yarra Boulevard car park on the Gardiners Creek Trail stopping for refreshments at Blakes Coffee Window. We continued on Gardners Trail to the Anniversary Trail to Ashburton. Returning to Yarra Bvd car park via Ferndale Trail/Park. Thanks Tom
.Ballarat (November 9th to 12th)
Similar to last year our scheduled trip away to Ballarat looked very much in doubt however the week before our planned trip away Covid restrictions were lifted allowing 15 Probian's to spend 4 great days of freedom in Ballarat.
Day 1 – Our team met at the Beechworth Bakery in Ballarat for a takeaway lunch in the park. After checking into our Big 4 NRMA Holiday Park cabins our warm up ride (9 km return) starting from the Holiday Park we cycled along the Canadian Creek Trail passing by Sovereign Hill Historical Park and a number of small lakes with lot of birdlife.
Happy hour each night was in our private dining room facility provided by the park where we could reflect on the day's events with a beer and a glass of wine.
Dinner was a byo barbeque with shared salads and desserts and we were all looking forward to the days ahead.
Day 2 – Our morning starting time was delayed ½ hour due to showers which soon cleared to allow 10 riders to cycle from the Caravan Park across town on bike paths and quiet streets to the huge Victoria Parkland area. Riding through the Park and crossing over Sturt Street we reached Lake Wendouree to start our circuit around the lake stopping at the Yacht Club to meet the non-riders for Coffee. Continuing on our circuit we noted the beautiful homes overlooking the lake and the abundant birdlife on the lake especially the black swans and their singlets.
Dinner was at the Red Lion Hotel only a short walk from the Caravan Park.
Day 3 – Another clear morning with bikes loaded we all headed to Smythedale for coffee at the very quirky Thru the Gate Café. The riders started at Smythedale on the Skipton Rail Trail cycling through dense bush and open farming country to Haddon to meet the non-riders for lunch at the Sticks Café located at Avalon Nursery.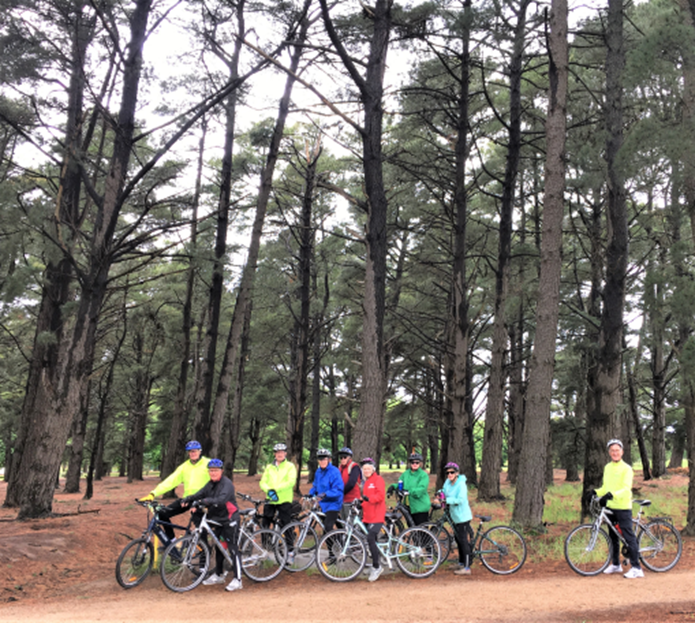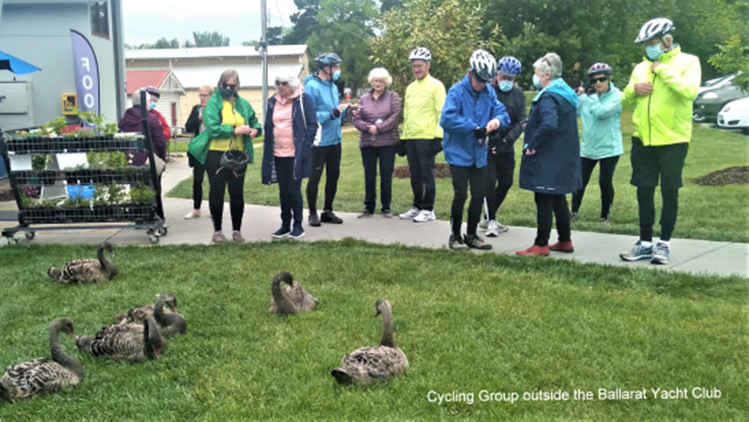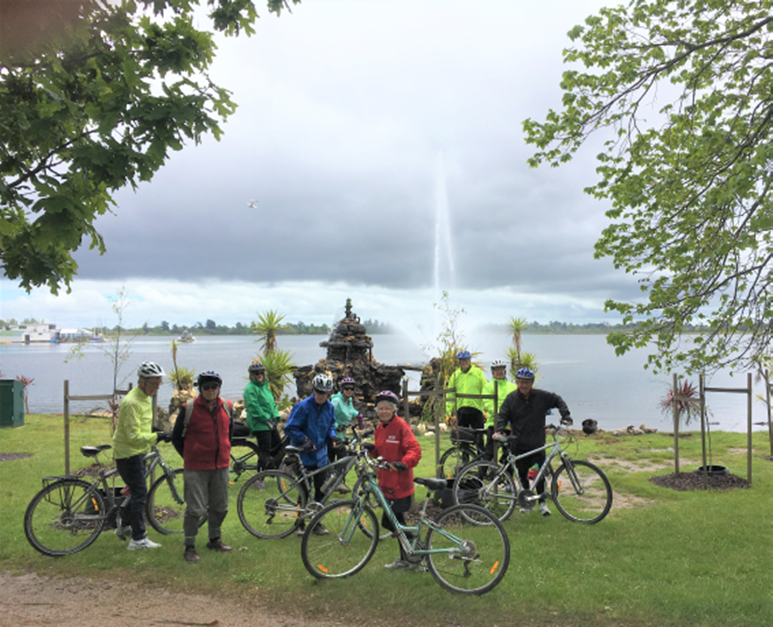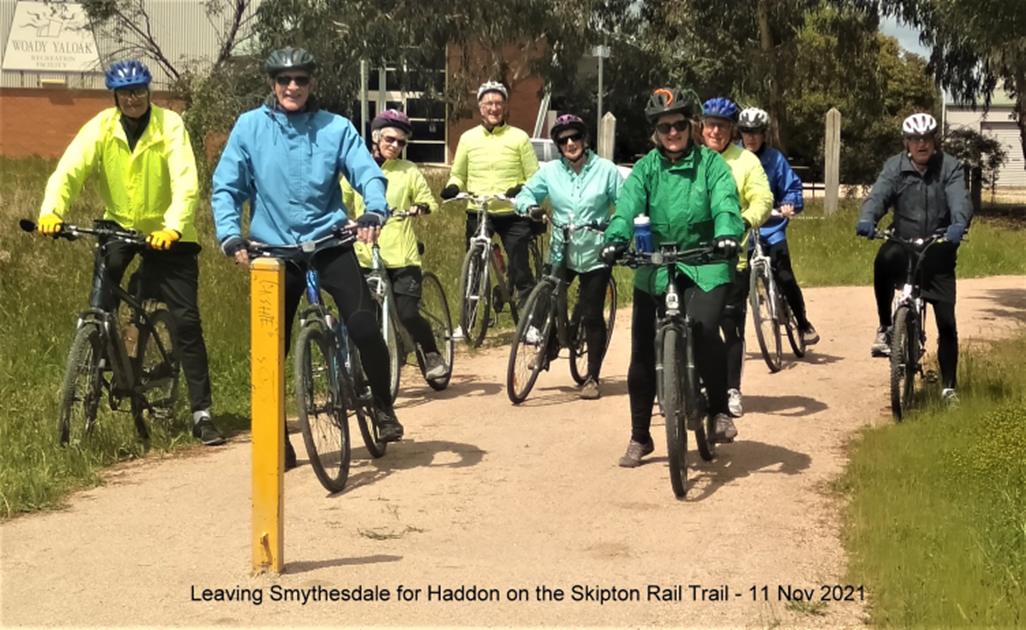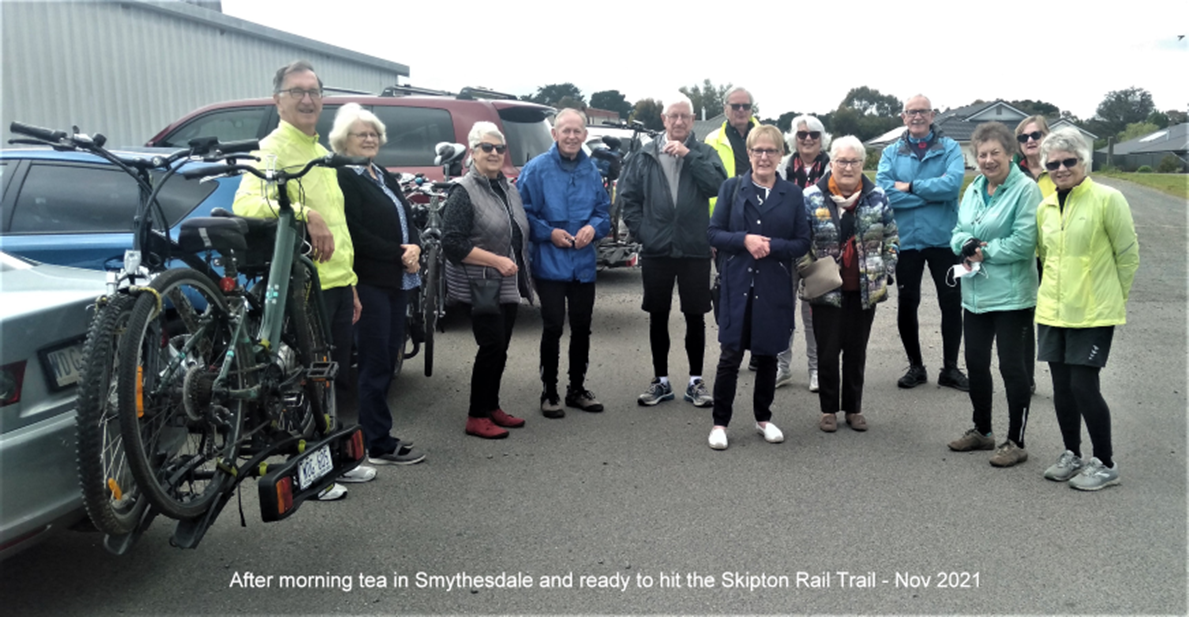 Our celebratory dinner was in our private dining room facility where we discussed our riding achievements during our week away.
Day 4 – This was check out day and with bikes loaded we all headed for home.
Thursday November 18th. 10 riders cycled from Elgar Park following the Koonang Creek trail to Burke Road crossing the Yarra River to join the Main Yarra trail through the Yarra Flats. Returning to Hahndorf's Fine Chocolates for refreshments. Thanks Ian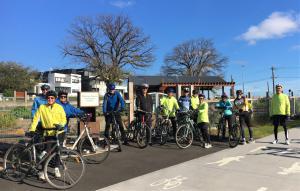 Share this with your friends
Subscribe
If you would like to receive our latest news via email, please fill in the form below!