Cinema Group
Cinema :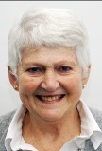 MEG McCLEAN

The film/luncheon for June is "Red Joan" to be shown at the Palace Cinema on Friday June 21 commencing at 11.00am.
We meet at the coffee shop of the cinema at around 10.30 for coffee and then head to the designated cinema for the showing at 11.00am. A basket luncheon (with tea and coffee) follows (gluten-free upon request).
Joan Stanley is a widow living In quiet retirement in the suburbs when shockingly the British Secret Service places her under interrogation for providing classified scientific information, including details of the building of the atomic bomb, to the Soviet government. As the interrogation gets under way, Joan re-lives the dramatic events that shaped her life and her beliefs. This film is inspired by an extraordinary true story.
Director: Trevor Nunn Duration:1 hour 50 minutes
Cast: Dame Judi Dench, Sophie Cookson and Tom Hughes (of "Victoria" fame)
Tickets are $20 and will be available at the June meeting on Monday June 3 (Cash only please). Any unsold tickets are returned to the cinema 3 working days prior to the showing."
Warmest regards,
Meg
Share this with your friends
Subscribe
If you would like to receive our latest news via email, please fill in the form below!