Walking Group
The Walking Group meets twice a month usually on the 2nd and 4th Monday.
Walking Group : Janene Marshall

Walking Group
9th OCTOBER - Hawthorn - Leader Barb Richards - We will meet in Kinkora Road, Hawthorn, near L E Bray Park where there is two hour parking.
We'll walk along the trail passing Glenferrie Oval and on through Grace Park which should look lovely in its spring colours.
Coffee will be at Providence Kitchen near corner of Burwood Road, before heading back to our cars. (Melways 45 C8).
23rd OCTOBER - NO WALK - MERIMBULA TOUR
WE ARE NOT GOLFERS, JUST WALKERS WHO APPRECIATE THE BEAUTIFUL PARKS AND WALKS AROUND MELBOURNE GOLF COURSES
ALL MEMBERS ARE WELCOME & WE ENCOURAGE MORE MALE MEMBERS TO JOIN US TO EXERCISE, CHAT & HAVE A COFFEE TOGETHER.
Jenene Marshall 0413 481 873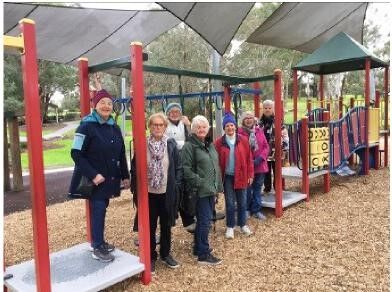 Share this with your friends
Subscribe
If you would like to receive our latest news via email, please fill in the form below!